About A-1 Limo & Bus Repair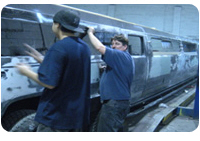 We are experts at diagnosing problems with motor coaches. This is what sets us apart from others in the industry. Identifying the root cause of a problem with a motor coach can save a vast amount of time and money.
We can handle any motor coach make or model. There is no problem that we can not solve.
Our service facility consists of fully insured, highly trained and certified service technicians.
Preventative Maintenance (brakes, oil changes, etc.). The key to maintaining a low-cost, long life lift fleet is proper preventative care in a systematic maintenance program. With state-of-the-art diagnostic tools, our technicians conduct component analysis to improve vehicle performance and dependability. Repairs are performed efficiently to keep you on the road and control costs.
Full Heating, Ventilation, and Air Conditioning (HVAC) Services. The best way to protect and lengthen the life of any cooling or heating system is to make sure it is serviced and inspected regularly. At your convenience we will have a qualified representative thoroughly check your Air Conditioning Unit to ensure that it is running as efficiently as possible.
Full Electrical Services. Electrical malfunctions are a significant cause of motor coach downtime and repair expense. We are experts at isolating the cause of electrical issues and repairing them correctly the first time.
All Engine/Transmission Electronic Diagnostics. Our expert staff is expertly trained in transmission and engine repair. With the use of electronic diagnostic tools, we can diagnose even the most ambiguous problems.
Audio/Video Installation and Customization. We offer custom, quality work for any needs pertaining to audio/video installation. No job is too big or too small. We can do it all, from installing that dream audio/video system to simply replacing a broken television in your motor coach.
DOT Inspections. The United States Department of Transportation (U.S. DOT) keeps records on every bus company that operates in more than one state. have your motor coach's yearly DOT inspection done by our trained and certified mechanics.
Electronically Controlled Suspension (ECAS) Adjustments. We are specialize electronically controlled suspension systems. Our services include diagnostic, recalibrating, and repair steering and suspension components.
Anti Lock Brake System (ABS) Diagnostic and Repair. Anti-lock brake systems are designed to minimize and control wheel lock up during braking.

Please feel free to contact us in regards to any of our services.