About A-1 Limo & Bus Repair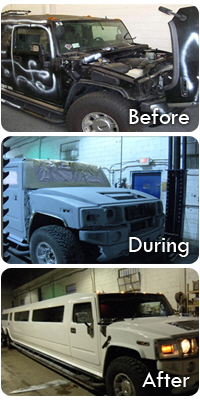 Body work - repaint and color change complete limo or bus. Replace all coach panels, doors, and nose upgrades. We specialize in single stage paint, also two-stage paint and three-stage paint. Complete bodywork done in house.
Glass - All coach glass from 10 inch to 320 inch glass removed and installed on premises with tinting and moldings. We can have glass made to fit any size.
Rear Suspension - We upgrade springs, airbags and leaf springs.
Drive Shaft - We make all drive shafts and balance and install. We take out the vibrations up to 100%, especially Chrysler, Mercedes Benz, Lincoln, Etc.
Air Conditioning - We make all lines, in-house. We stock a/c compressors, condensers, pusher fans, and puller fans, evaporate units and blower motors, dual compressor kits. Do a complete install to upgrade you're a/c systems in all types of limos and buses.
Heating - We stock heater units, circulator pumps, heater control valves and vacuum solenoid. We create a warm climate for all vehicles.
Brakes - We are certified in hydraulic and airbrake systems. We stock all steal rotors, all fleet pads and shoes, calibers, steal brake lines. We make all lines in house and replace and diagnose in house. We also trained in abs and traction control systems.
Front Suspension - We upgrade struts, springs, suspension assist, ball joints (upper and lowers), hubb assemblies, tie rod ends, steering boxes, rack and pinion and alignments.
Chassis's - We have been upgrading and repairing Chassis's for all limousines, SUV's and buses for international/freight liner, GM and Ford. We have the proper docks for repairs. Fish plating for cracked Chassis, body brackets for bushings for support.
Driveability - Service engine/check engine, A.B.S, tire monitors, lack of power, transmission issues, starting issues. We diagnose and trouble shoot on premises.
Factory Electrical - Running lights, taillights, dashboard indicators, cab lighting, power locks, power windows, and heated seats, harness fires. We repair, rewire and fix like new.
Rear Electrical - Loss of power, partial power, loss of mood lights, rgb lights, floor lights, blowers, stereo equipment, TV's, intercom systems, neon and electrical fires. We can replace your electrical system for the rear of your vehicle using limo touch, air light, mastcron, etc. All systems are repaired on premises.
Sound System - We install stereos, DVD's, monitors, TV, lab top, phone systems, satellite, amplifiers and speakers.
Roofs - Mohawk top, wrap downs, reducers. We do these in all colors and textures. We also replace and fix moon roofs. Also we have a 100% repairing rate for those water leaks in your vehicle.
Services - Seven days a week service, 24-hour roadside assistants with towing for buses and limos. We have 10 techs on staff, each of them have extremely great knowledge and specialize in all buses and limousine from all manufacturers.
FEATURES
Customized storage solutions keep you efficient and organized.
Work out package (peddler package)
Handicap accessible vehicles customized to order
Spaceship doors
Ball Room Style Interior - Disco Floor, Ceiling, Bars
A-1 LIMO DEPOT "WERE ALL ABOUT THE BS!"
BEST SKILLED
BEST STRETCHES (BIG OR SMALL)
BE SEEN
BUILT SOLID
BEST SERVICE
BE SAFE
BE SMART
BE SPECIAL
BUY NOW SAVE LATER
BIG SHOT
BIG STUFF
BE SMART WITH A-1
BIG SAVINGS
(THIS IS ABOUT OUR BS NOT THE OTHER BS!)
Conversions to fit any size or style wallet
Lay back and relax in your reclining seat that is heated and massage.