Welcome To A-1 Limo & Bus Repair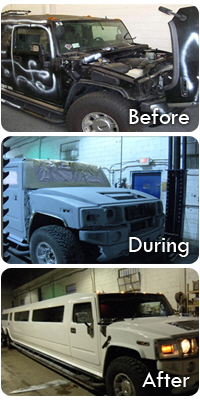 A1 Limo & Bus Repair is the leader in the limousine repair industry. We have been servicing the industry for over 18 years. A1 specializes in the upgrading and refurbishing of all types of limousines and luxury buses. We create and install disco floors and ceilings. Do body and paint work. We do full glass work and work on vinyl, mohawk and wrap down tops. No job is too big or too small. Our expert team of technicians can install full touch control systems for driver and passengers. A1 is certified in the installation of all touch screen systems. We are also certified in Air Systems. We can build our own system, if needed, to save you money.
We are limousine repair specialists. At A1 we are equipped to repair all domestic and imported limousines to their specifications. Our limo repair service offers work on: engines, transmissions, drive trains, interior and exterior body work, re-upholstery, bars, electronics, sound systems and so much more. At A1 Limo & Bus Repair your vehicle will be repaired by trained, experienced, licensed technicians whose goals are the quality and safety of their repairs. A1 Limo & Bus Repair works on, but is not limited to: Hummers, Navigators, Lincoln Town Cars, Cadillac Escalades, Chrysler 300s, all General Motor and Ford Motor Company vehicles. We also have access to all foreign products.
A-1 Limo & Bus Repair Services
Our hours of operation are: Mon. - Sat. 8am to 8pm
At A1 Limo & Bus Repair we realize that since limos don't have problems on schedule it's hard for you to schedule an a appointment, however your encouraged to do so when you can. Your schedule is what counts most to us when working on your vehicle. We will contact you when your vehicle is ready. If you need to leave your car overnight, we can accommodate that for no extra charge. Your convenience is our priority.
Air Conditioning, Ventilation & Heating, Battery, Charging and Starting Systems, Belts, Brake, Clutch, Cooling Systems, CV Axle & Boot Replacement, Cylinder Heads Gasket, Differential, Drive and Fan Belts, Drivetrain, Electrical & Electronic Diagnosis, Emission System, Engine Cooling System, Engine Performance Diagnosis, Exhaust System, Factory Scheduled Maintenance, Filters, Fluids, Fuel Injection Diagnosis, Fuel System, Hoses, Lighting Wipers, Oil and Filter Change, Oil Leak Diagnosis, Power Steering, Preventive Maintenance, Shocks & Struts Replacement, State Inspection, Suspension, Steering, Timing Belts & Chains, Tires, Towing, Transmission, Turbocharger, U-joints, Valve Adjustments / Cover Gaskets, Water pumps, Radiators, Hoses and Wheels.